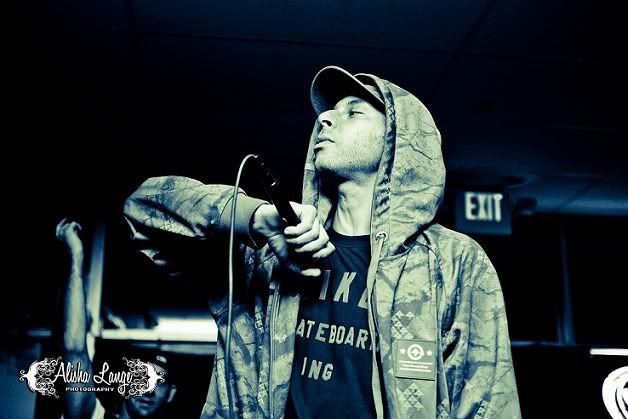 Ohio's Copywrite drops another his new album God Save The King.
The Stateside version drops on 28th February, the UK version is released on 30th April. Both on Man Bites Dog Records
Taken from both versions is "Golden State of Mind", featuring Hiero's Casual, Evidence and Roc Marciano. Production is supplied by Eric Vanderslice.
The full tracklisting for the UK release has just been announced :
1. Post-Apocalyptic Request Box prod by Jason Rose
2.Year of the Gun ft Killah Priest, Inspectah Deck & Bigz Flygerian
3.Crooked Coppers ft Crooked I & Iron Braydz prod by Surock
4.A Public Service Announcement from DJ Sarah Love
5.Keep Troopin' ft Sean Price & SAS prod Kount Fif
6.Ghost in the Machine ft Context prod by Jason Rose
7.OverDose ft Royce 5'9" & Genesis Elijah prod by Curtiss King
8.J.O.Y. ft Torae & Jason Rose prod by Jason Rose
9.Got Myself ft Gillie the Kid & Sinista Daniro prod by Jason Rose
10.More Sorrow ft Illogic & Don Jaga prod by Stu Bangas
11.Blue Ribbon prod by Bronze Nazareth
12.Yo! Mtv Raps! (Money for Nothin') ft Jason Rose prod by Jason Rose
13.Synesthesia prod by RJD2
14.Golden State (of Mind) ft Casual, Evidence & Roc Marciano prod by Vanderslice
15.a Lil' Logic from Illogic
16.Opium Prodigies ft Illogic prod by Marco Polo
17.Arachnaphobia ft Killah Priest, Lord Basis & Melanin 9 prod by Jaguar Skills
18.Starter Hats ft Sonny Seeza (Onyx) & Akala prod by Kount Fif
19.G$k ft Dru Blu & Jason Rose prod by Stu Bangas
20.Still Pickin' Up ft Sean P,Mystro & Dom prod by Kount Fif
21.Got to Make it ft Tage Future (MHz) prod by Stu Bangas
22.A Talk with Jesus prod by Poetiq Beetz
SOUNDCLOUD
http://soundcloud.com/urbanelitepr/copy ... te-of-mind
@urbanelitepr