I don't think I'm alone here, but I love shitty movies that are so bad that they're fantastic entertainment. And I'm always on the hunt for more to watch in my leisure time. So let's get a list going.
My first, and favorite all time "so horrible it's badass movie" is:
ENTER THE NINJA.
Plot from IMDB:
After just completing his training at a ninja school, an army vet travels to the Phillippines and finds himself battling a land grabber who wants his war-buddy's property. He must also fight his rival.
Starring: FRANK NERO aka What the fuck? Norris.
WATCH IT, OR THE WHITE NINJA WILL NUNCHUCK YOUR BALLS TO PULP.
Why I like it:
Well first of all, it's Frank Nero playing the White Ninja.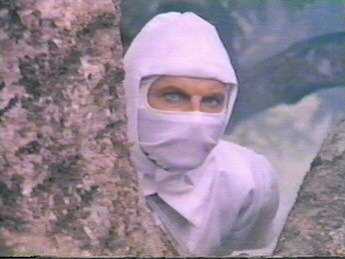 He sees you
Plus everything about it is completely retarded, and it's totally evident throughout the entire film he's never even seen martial arts demonstrated before, let alone understand the key concepts behind Ninjitsu, you know, like STEALTH.
The villains are just as funny. Trying to watch this as anything other than a slapstick comedy is virtually impossible, and I'm almost positive that was the intention, which would actually make this movie brilliant.