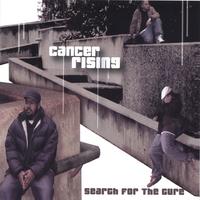 Seattle's most outspoken hip hop group Cancer Rising drops their Search For The Cure album on Mad Passion Entertainment and takes the scene by storm. With rocked out funk beats by DJ Tiles One and powerful frantic lyrics by Judas and Gatsby, Cancer Rising makes an original fresh sound that is fit to bump anywhere on the map in any situation. Provoking fists to rise and bodies to move, not only can Judas and Gatsby make you wyle out in your seat or standing up they can get really personable as well with cuts like "Mamas Ashes" and "Time and Place". At an almost too short length of 48 minutes, Search For The Cure is a beautiful blend of hard rock grooves and the art of modern hip hop. Entertaining from front to back with anthems like "Stand Up", "Run" and other joints with developed creative production. I suggest you go get Cancer Rising's Search For The Cure, put some cash in the homies pockets, open your ears and enjoy the journey.
Pocket Check – 5/5 great introduction to the overall feel of the album
Dedicated – 5/5 one of those faded appreciation tracks to the peoples
Stand Up – 5/5 intelligible lyrics and a beat to move a crowd
Rawkstar – 5/5 catchy as hell, two step to this!
Hear This – 5/5 this hook will destroy yours
Run – 5/5 damn good track play hifi : download
Full Throttle – 4/5 melody and cadence just take the album down a notch
Scenery – 4/5 relax son
Play It Again – 4/5 Chill track, jazzy beat graceful lyrics
Grace & A Pen – 4/5 positive energy for the writing artist
Search For The Cure – 3.5/5 heartful, but not as strongly steered
Time & Place – 5/5 personal, strong, hopeful
Mama's Ashes – 5/5 great wrap up, beautiful
59.5/65
Overall – 4.2/5
Bringing out the rock pulse, the club pulse, and the hearts pulse in everybody; Search For The Cure is damn close to being solid classic music, I just felt like it ended shortly which of course though makes great for replay value. Well worth the money, and well worth the listening time.
-Montag Faber